About our Pool
Fees / Pledge
2.5% + 1M ADA PLEDGE

LOW FEES AS WE STRONGLY BELIEVE IN ACCESSIBILITY TO FINANCE FOR EVERYONE
Hardware
WE ARE RUNNING CARDANOFANS STAKING POOL ON BAREMETAL WITH TWO RELAY NODES AND ONE BLOCK PRODUCING, LINK 200 MBIT

Baremetal stakepool with 200 Mbit fiber running on Intel i3 and 2 x Intel i7 servers ( 3 x 16 GB RAM)
Monitoring
WE HAVE SETUP ADVANCED MONITORING WITH ALTERING IN CASE THINGS GET PEAR SHAPED.
Operators
WELCOME TO CARDANOFANS CARDANO (CRFA) STAKE POOL. WE ARE PROFESSIONAL STAKE POOL OPERATORS. WE HAVE BEEN RUNNING LINUX SERVERS (BARE METAL, CLOUD) FOR OVER 15 YEARS NOW.
Involvement
WE STRONGLY BELIEVE THAT FINANCE SHOULD BE AVAILABLE FOR EVERYONE NOT JUST PRIVILIGED ONES. THERE IS ABOUT 3 BLN PEOPLE THAT ARE CURRENTLY UNBANKED, CARDANO AIMS TO CHANGE THIS AND WE WILL SUPPORT IT VIA RUNNING LOW FEES STAKING POOL.
Cardano Blockchain Insights
Cardano Blockchain Insights contains of on chain and off chain metrics from a birds eye point of view evolution of Cardano project.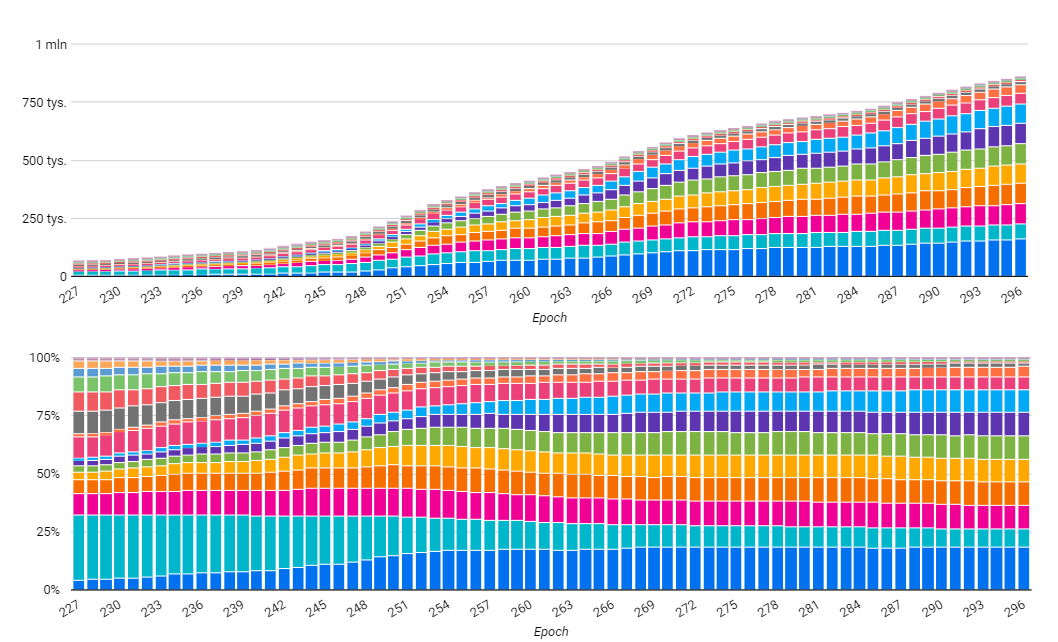 Get more details
About Cardano

Cryptocurrency
Cardano is a public blockchain and cryptocurrency project. It requires decentralized node servers to validate and secure the blockchain for all participants.

Earn
If you hold Ada (₳) cryptocurrency, you can participate in this process and earn rewards by staking your Ada.

Control
Your Ada remains within your complete control at all times and you are still allowed to transfer, spend, or move your staking delegation to another stake pool.